I'm having a hard time keeping up with my proposed 5 posts per week thing. So, I'm dialing that back to 3. It wasn't so much a decision as a reality. Sorry, but there is a lot of reality going on here :)
Right now I'm musing over some sewing projects. I just bought some lovely stretch poplin fabric in a fun green for a skirt, and I think I'm going to go with the A-Plus A Line skirt available for free on Burdastyle, designed by Twinkle by Wenlan.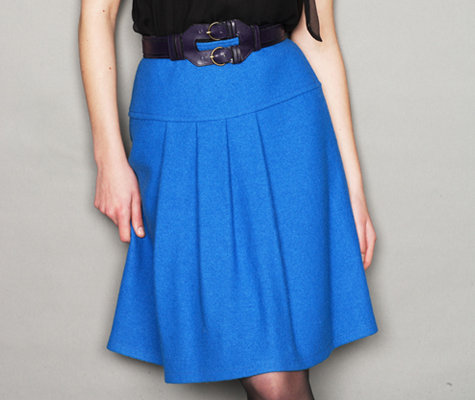 It has been done as written by the ever-amusing Elaine at Selfish Seamstress. Elaine with the double-edged wit, mad sewing skills and an amazing shoe collection. I hope that if she ever discovers that I have used her photo without permission she will forgive me and believe that I was too intimidated to ask when I didn't see a blurb abut linking with photos anywhere on her blog. Please don't eat me, I think you're fabulous!
Another version with smocking instead of pleats was blogged here by Cutting Edge Stitches & Seams. Neat closeup of the smocking on Flickr here. I liked the color and fabric, but I think the smocking took away from the sleekness, though added some style in other ways. I am also fairly convinced that I bumped into a handmade version of this at a local thrift store not long ago. It was well done and pretty in a shiny golden home dec fabric, but it had too much body and would have looked like Roman soldier body armor as it moved when walking. No drape. I won't make that mistake.
I love the yoke, but I'm not so sure about the pleats. I feel that it might end up requiring more pressing than I want to do, or that the pleats will not sit nice and flat and it will make me look chubby (there were lots of puckery and misshapen pleats in the completed projects on Burdastyle, and it made me wary). Possibly a holdover from my chubbier days, possibly because that's what would actually happen. Not everyone is shaped like Elaine. Either way, I think I'm going to try and do what juebejue did and use the lining as the pattern and remove the pleats altogether to get a more sleek A-line. It looks lovely, and we'll see what a muslin has to say about it. I hope to get to this soon since it should be simple and I have precious few skirts right now. I'll show you what I come up with when it's done.
What are you working on right now? Is there anything Fall-ish that you are dreaming about?